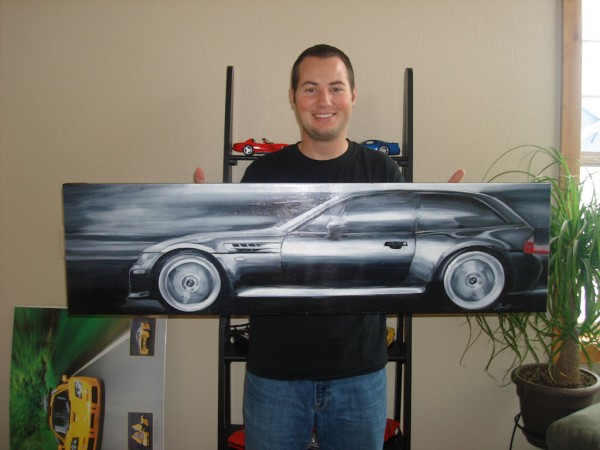 Almost exactly two years ago, "2000mkoop" on Bimmerforums had a very talented friend of his, and College for Creative Studies graduate, create a painting of his M Coupe. As you could probably guess from the fanatical nature of the M Coupe community, everyone else wanted one too. His friend eventually opened an Ebay store where he sold paintings of many cars including the M Coupe. Eventually there were 5 different M Coupe paintings available. You can view three of the other ones on Jeremy's Coupe A Day site.
My favorite, and the one my wife bought me for Christmas 2009, is the profile shot. I liked it the best because it looks like it's steel gray and has stepped-lip wheels which I someday hope to have on my coupe. It has been hanging in my office just to the right of my computer monitor for the past year and a half to inspire me :). You know it's good because it replaced the McLaren F1 LM poster you see behind me and not many things could do that.
These paintings are very well done and, as someone on the forums described, "inside the house worthy". Here is a description of the process from the painter himself:
"The paintings are created using various techniques that I have learned in the automotive design field while also using traditional painting techniques. Airbrushing is used to establish basic gradations but is not solely used due to the cheap and fuzzy look that results. I use special oil pencils that are blended with various methods to maintain an Industrial artistic quality. The reason I do not paint much with traditional brushes is that they tend to make the lines on cars look lazy, eliminating the line tension that exists on the original car design. The quick gestures of the pencil I far prefer to the slow lazy look of a paint brush. There is no silk screen process. The final work is sealed with a high quality clear coat that is fade resistant and gives the painting a deep oil painting look."
I would have shared this amazing item of "coupe stuff" with everyone earlier, but the painter's online store was empty for over a year. I didn't want to flaunt my goods and not tell you where to get your own. The good news is he is back! He currently has two M Coupe paintings listed on Ebay, but I'm pretty sure he would be willing to do the other ones as well. The best part is, each of these paintings is original (not prints) and signed by the artist. The very best part is they cost <$100 (edit: looks like they just went up). I've also heard he's willing to do one-off, commissioned paintings for a little more if you just send him a photo of your car.
When I purchased mine, he had them available as rolled canvas or already box framed. I got the box framed one, so it would be ready for hanging despite the higher cost and additional shipping. It now appears they all come only on rolled canvases.
I think this is a must have item for any coupe fanatic. I'd love to sometime pick up the rear view painting of what also looks like a steel gray coupe to add to my original art collection.