LC60291 – Part 2: First Impressions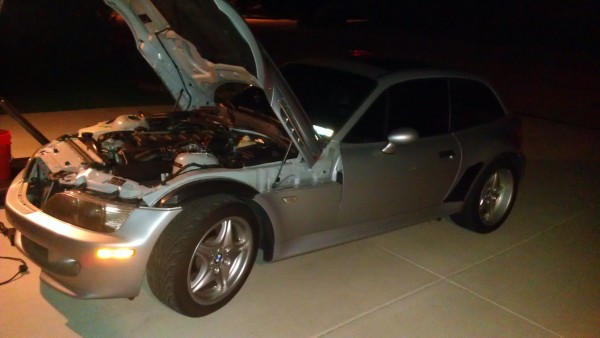 It was dark, but the first things I noticed were the blacked out kidney grilles and rear fender stone guards. There were also new-ish silver lug bolts. Squinting through the tinted driver side window, I spot aluminum ///M logo pedals along with the factory ///M floor mats. Oh yeah, and window tint including the top 3rd of the windshield. Windshield tint may be worth it in Florida, but it would not survive long at my house. It also had S54 curved M badges on both the back and side  gills. The rear badge was about the most faded S54-style badge I've come across and also placed in the S54 badge location. Not a huge deal, but I'll be hitting up Tyler at Never Done Garage for some new stripes.
The only concerning thing I noticed were the chrome-ringed headlights. If you read this article, you'd know that chrome-ringed headlights did not show up until the model year 2000 coupes, and this was a 1999. Usually things like obviously replaced headlights in addition to modified kidney grilles would be a red-flag of a possible front-end accident. I went back and looked at the 3-year old photos and noticed the headlights had been replaced at that point, but it still had it's stock kidney grilles. So the kidney grilles were replaced at a different time and most likely just for looks. That made me feel a little better, and the Carfax report we had run was completely clean; I still wanted to get some more eyes on it though. Overall first impressions were pretty good, but I'd have to wait until the next morning to see it in the daylight and take it for a drive.
When morning came, I still couldn't get into the car, but I took the opportunity to jack up the back of the coupe and check the diff mount. It looked perfect, phew! While under there I noticed some Goodridge stainless steel brake lines; that's a good sign. The rear brake pads also looked relatively new. I came around to check the front brakes: OEM Euro floating rotors, score! I also spotted a UUC stainless steel clutch line. It had definitely been owned by an enthusiast. Things were definitely looking up.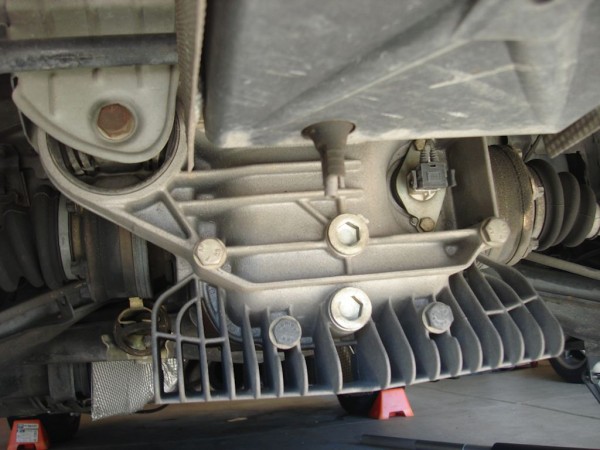 Around 10 o'clock, Colby arrived in his 2000 dakar yellow M Coupe around the same time the truck driver returned. I exchanged an envelope of cash for the keys, and it was officially in my possession. We immediately opened the doors to get a better look of the interior. The first thing I noticed was the Pioneer head unit I had not noticed the night before. It looked decent and had both USB and Aux inputs. Not bad. The interior itself was in better than average shape for a 99k mile coupe. The driver seat had some minimal bolster wear, and the seats looked a little dry from being parked in the Florida sun. The most obvious flaw was the cracked recirculate button in the center console, that would definitely need to be replaced. The rest looked like it would clean up pretty well, and the seats would look much better with some leather conditioner. We next went around to the front and checked out the engine bay. Everything appeared stock and operational. We'd get a better look once we detailed it.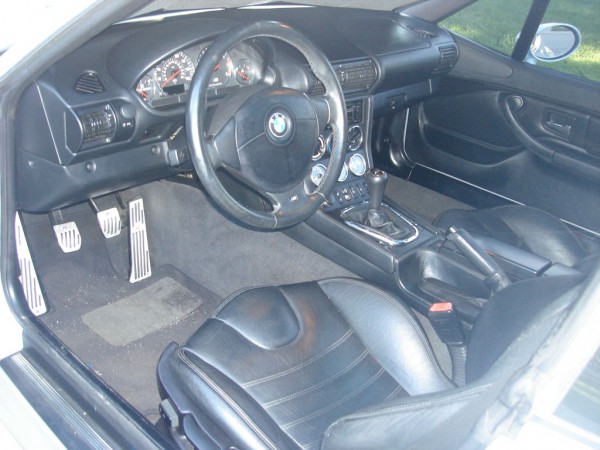 Now it was time for the first drive. I was admittedly a little nervous when I first started it up. What had I gotten myself into? It started up fine, went right into reverse and off we went. Driving down my street there were no worrisome rattles or clunks. I breathed a sigh of relief. When we stopped at the stop sign at the end of my street, I had a little trouble getting it going before realizing I was in 3rd gear. Oops! I shifted and off we went again. When I upshifted I found myself in 4th rather than 2nd. Something strange was going on. At that point I noticed that the shift lever went all the way to the right whenever it was in neutral. Darn, the dreaded shift pin issue. I guess at least I had something to work on in my "project" coupe.
We continued our test drive through the farm land east of my house. I realized then that I had never actually driven an S52 coupe before. Of the 10-15 coupes I've had the pleasure of driving, they had all been S54s (I guess I live a charmed life :-)). It felt much more peppy than I expected, and Colby thought the same. We pulled over and started pressing buttons. Everything was in working order. Colby drove back to my house and confirmed that it definitely felt faster than his S52. Interesting.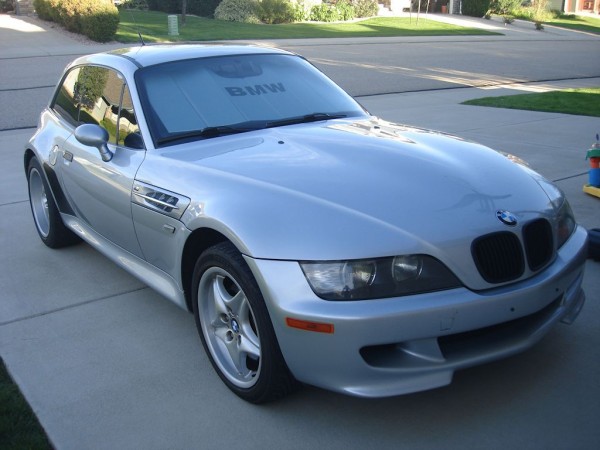 To be continued…