Coupe Radar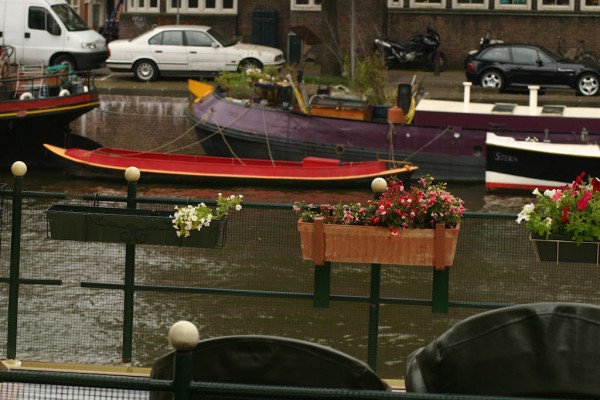 As far as 6th senses go, Coupe Radar is far from the most useful. I'm pretty confident in saying there has not been a Z3 or M Coupe in my field of vision the past 10 years that I did not spot and gawk at if possible. They could be a half mile in front of me on the interstate, a brief glimpse of a roof over a concrete barrier or the tailpipes peeking out from under a garage door. It's a shape that is not easily mistaken so false positives are rare.
The most recent example was not even in person. I was flipping quickly through some of my dad's photos from Amsterdam in 2007 admiring the canals, architecture and flowers when my Coupe Radar pinged. There it was behind bright flowers and multi-colored boats, just across the canal and out of focus, an M Coupe! It appears to be cosmos black which would make it an S50-engined car in Europe. It also has M Contour wheels off of an E36 M3. They look fine from the profile, but I bet in person the rears would just look goofy with such a high offset and would sit over an inch inside the fender. In any case, what are the chances of randomly taking a photo that unintentionally includes an M Coupe halfway around the world (and being my dad)?
Over the years, and with a little education, one can further develop their coupe radar to encompass S52 vs S54 engine, model year and a good sense of upgrades in a single glance. Here's the series of thoughts my mind goes through each time I come across an M Coupe in the wild (assuming the spotted coupe is stock-ish). I would have put it in flowchart form for you, but it got a little over-complicated :).
Color:

If arctic silver, 1999 (S52) (hard to describe the difference between arctic and titanium silver but it is apparent)
If boston green, 1999 (S52) (a little lighter and a hint of teal compared to oxford green)
If oxford green, probably a 2000, but there are a couple 2001s and 2002s
If evergreen, 1999-2000 (S52)
If dakar yellow, 1999-2000 (S52)
If laguna seca blue, 2001-2002 (S54)
If steel gray, 2001-2002 (S54) (although there are a couple special-ordered S52s)
If phoenix yellow, 2001-2002 (S54)
If cosmos black, 1999-2000 (S52) (also hard to describe the difference between cosmos and black sapphire)
If black sapphire, 2001-2002 (S54)
If titanium silver, 2000-2002

Wheels: chrome shadow or hypersilver roadstars

If chrome shadow (darker), 2001-2002 (S54)
If hypersilver, 1999-2000 (S52)

Headlights: chrome rings around the high and low beams

If yes, 2000-2002
If no, 1999 (S52)

Front Kidney Grills: Chrome or black slats

If chrome, 2000-2002
If black, 1999 (S52)

Badges: harder to spot in motion but pretty apparent on a parked coupe

If flat, 1999-2000 (S52)
If curved, 2001-2002 (S54)
It's a tough skill to master as opportunities to practice are so few and far between. I probably see 2-3/year that aren't conveniently parked at my house. But study up, so you'll be ready the next time your Coupe Radar pings. Or come to Dorkfest on August 27th where there will be 50+ coupes on which to hone your skills.