May 19th, 2010
Comments off
While the M versions get most of the attention, not all Z3 Coupes got the motorsports treatment. BMW built a non-M Coupe from 1999-2002 available with the most powerful engine offered in the Z3 each year. In 1999-2000, the Z3 Coupe was sold with the 2.8L 193 hp, 206 lb-ft torque M52 engine and in 2001 was upgraded to the new 225 hp, 214 lb-ft torque 3.0L M54 bringing it within 15 hp of the S52 M Coupes.
While they weren't graced with the motorsports engines or suspensions, they share much of the same unique styling. Many think they have narrower rare fenders, but this is just an illusion of the higher offset and narrower rear wheels that lack the deep lips of the M models. Other obvious exterior styling differences include:
Standard Z3 front bumper and side gills
Single exhaust with 2 tailpipes rather than the M's 4 tailpipes
License plate in rear bumper rather than hatch
Unique wheel options
Higher offset rear wheels (46 or 41 mm rather than the M's 8mm)
Additional and unique paint color availability including:

Alpine White (1999-2002)
Arctic Silver Metallic (1999)
Atlanta Blue Metallic (2001-2002)
Black Sapphire Metallic (2002)
Boston Green Metallic (1999)
Bright Red (1999-2002)
Cosmos Black Metallic (1999-2001)
Dakar Yellow (1999-2002)
Estoril Blue Metallic (2000)
Evergreen Metallic (2000)
Imola Red Metallic (2000)
Impala Brown Metallic (2000)
Jet Black (1999-2002)
Montreal Blue Metallic (1999)
Oxford Green Metallic (2000-2002)
Pistachio Green Metallic (2002)
Siena Red Metallic (2000, 2002)
Steel Gray Metallic (2000)
Sterling Gray Metallic (2002)
Titanium Silver Metallic (2000-2002)
Topaz Blue Metallic (2000-2002)
Other noticeable interior difference include:
Available wood or metallic trim
Unique black faced gauges
Revised center console without accessory gauges
Re-styled seats
Unique interior colors including:

Beige (1999-2002)
Black (1999-2002)
Dream Red (2002)
Impala Brown (2000)
Tanin Red (1999-2001)
Topaz Blue (2000-2002)
Walnut (1999,2001-2002)
The other large difference is the availability of automatic transmissions (4-speeds in 2.8L and 5-speeds in 3.0L). Automatics were never offered on the M models, so if you can't drive stick, you do have an alternative.
You can tell the difference between 2.8L and 3.0L models by their taillights (3.0L models have clear turn signals), their wheels (although the standard wheels remained unchanged), and the wider chrome strip on the revised rear hatch of the 3.0L cars.
According to 368s.com there were 16,649 Z3 Coupes produced with most being the 2.8L model. I've heard, but cannot find the exact number, that there were fewer 3.0L coupes produced than S52-engined M Coupes.
Prices of Z3 coupes when new were around $5000-$7,000 less than comparable M models. Now you can typically find a similar year/mileage/condition Z3 Coupe for much less than it's M counterpart. For example, the Topaz Blue 2001 Z3 Coupe 3.0 pictured is currently listed by Bimmerforums member Eric Jacobs for only $13,500 with many desirable modifications and only 59,000 miles (click here). (Sold to a Blog Reader!)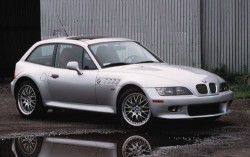 With his modifications it should keep up with a stock S52 M Coupe but at a substantial discount.
While I desire an M Coupe, I have nothing but respect for the non-M's. After all, it was a Z3 Coupe 3.0 nearly identical to the Titanium silver one pictured on the right that first inspired my fascination with these cars.