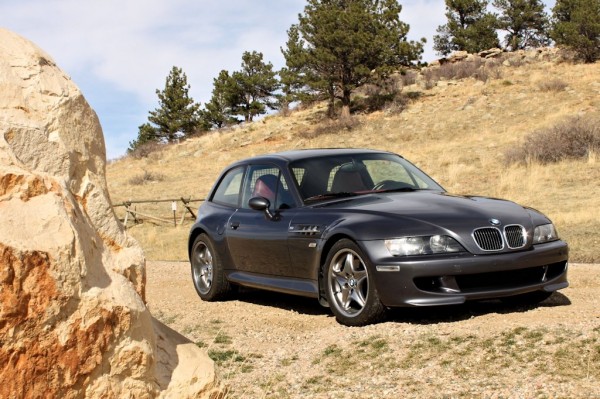 It's a rather unusual 80 degree day in Colorado on March 17th, what's a birthday boy to do? Take the M Coupe out of winter hibernation of course! And that is exactly what I did. With the kids napping at my parents' house, my dad and I drove back to my house and released the coupe from it's winter home. I already knew what this birthday present was going to be, but it didn't make it any less fun to unwrap.
Even though it has looked great under it's tight, black, form-fitting cover, it looks even better without it. The drive also gave me the opportunity to try out two of my new modifications. First, my wife had bought me some imola red and black interior color-matched Puma driving shoes for Christmas (does she know me or what?). I had not had a chance to try them out yet. They lived up to the hype and will now be worn on all drives going forward. I had also only had one opportunity to drive using my new illuminated ZHP shift knob after installing it last fall. If anything, I like it even more than I remember. It completely transforms the shifting action. My dad probably got tired of me saying how much I liked it. Who knew such a small thing could make such a big difference. Man does it fell good to be back in the saddle again.
We headed up Rist Canyon and back to town on Stove Prairie road which is one of my favorite routes. There were a few too many motorcyclists out, but it didn't ruin the beautiful weather and even better roads. On our way back into town I pulled off on an overlook on the ridge over Horsetooth Reservoir, and my dad took some great photos. My wife used her photo editing skills to make them even better. See what you think:
Needless to say, I had a very happy birthday.