October 6th, 2012
Comments off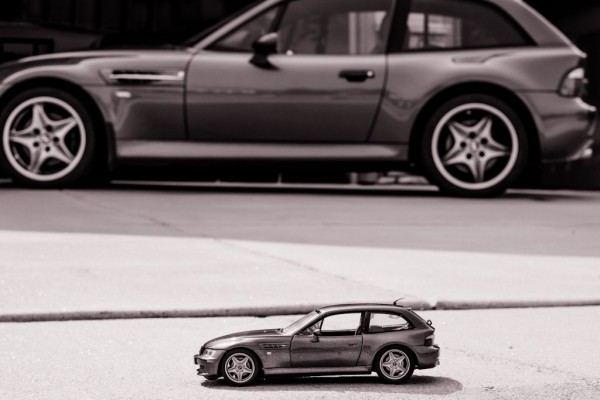 I bought my first 1:18 scale model car way back in 3rd grade. Since then my collection has grown quite a bit including several dealer edition M Coupes. It has always felt like something was missing though. I have found that the problem of having a rare color combination is that model companies will never build one like yours. I was very aware that I did not possess the skills to get it done. Thus began a long search for a 1:18 scale steel gray over imola red M Coupe.
I first crossed paths with this coupe way back on May 15, 2011 when Jeremy posted it to his Coupe A Day site; I was immediately smitten. It had been built by model builder 3er_driver and posted on modelcarforum.de (the build thread). He painted the model sterling gray, painted the seats and door panels imola red, added some black interior carpet, and put it on 19″ BBS wheels. I'm not sure what color is was originally, but it appears to have had full black interior, so it may have been silver? It was not perfect, but it was as close as I'd come to a replica of my car.
In December, I randomly came across it's listing on Ebay.de. The seller did not show that he was willing to ship to the U.S., so I just put it in my watch list and stared longingly at it as it went to someone else. Lucky for me, it happened to have been purchased by an acquaintance of mine from Israel who posted his purchase on Z3MCoupe.com. I immediately put my name out there in case he ever decided to resell it.
After a few emails back and forth over the months, the model's new owner, Sasha, said he was willing to let it go. He also asked if I'd be interested in having him switch out the interior for a full two-tone imola interior from a donor car and switch the wheels back to roadstars. Ummm…YES!
Thus began customization #2. Sasha dissected it back to it's basic components, pulled the interior and roadstars off another model, and reassembled it. Lucky for me he got really in to the project. Not only did he do the agreed upon modifications, but he printed off a matching 1/18 scale Colorado license plate and did a 1/18 scale engine swap. Yes, my new model has an S54! He came across one on Ebay randomly, painted it to match and made it fit.
I told my wife on the scale of things I've purchased in my life, the list of favorites goes something like this: her engagement ring, my full size coupe, our house, my last computer, this model. Sasha's daily progress photos just got me more and more excited. I even mailed him an empty dealer edition box just to make sure it had a safe trip, and it arrived after its long trip from Israel safe and sound. I know it's not exactly steel gray, but only I notice that :). What more could an M Coupe fanatic want?