July 8th, 2013
Comments off
A great coupe story from Jeff who will hopefully soon be joining the Cartel.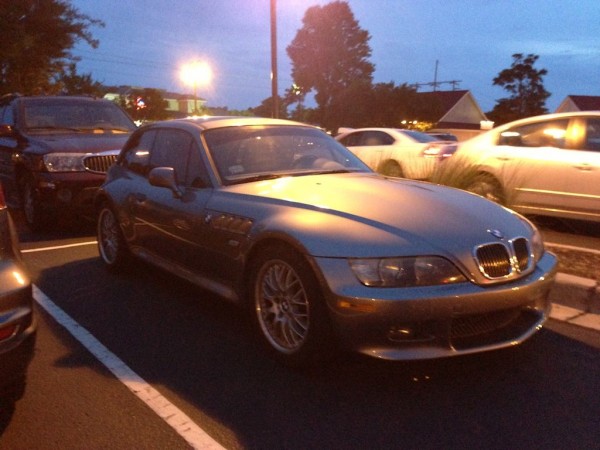 I think my interest in BMWs first began back when I was in middle school.  One of my best friend's dad had one of the first E65 745Li cars in I believe Space Grey.  About the same time I began spending a considerable amount of time over at their house I saw the 2004 cheesy action film "Taxi" which featured Jimmy Fallon and Queen Latifah in a souped up taxicab chasing an AC Schnitzered up 760Li being driven through the streets of NYC by Brazilian Victoria's Secret models.  Though the girls of course were a hit with everyone, I was the only one out of all of my friends who was more interested in the V12 Bimmer than the mental taxi.
My friend's dad was a cardiologist so he worked pretty weird hours but we occasionally were presented the opportunity to ride in his car, which often involved breaking land-speed records in our Ohio suburb to do something mundane like picking up Chinese food.
Skip ahead a few years.  Probably the second week of college I met one of my closest friends who happened to own (still does) a 97 Z3 1.9 automatic with the hard top.  An old car with a lawn mower engine, terrible transmission, and sticky gas pedal.  But I still love every chance I get to go someplace in it.  It feels truly fantastic sitting on the rear axle staring out at a football field's worth of bulging hood.  Plus the styling which is so tasteful and classic BMW.
I was sold.  Clearly the perfect car for a young bachelor.  I can't say exactly when I became fascinated with coupes, I had never seen one in person, but it was sometime between then and now.  They appealed to me mainly because of the originality and backstory of how they came to be.  Though I also loved how they prove that a 2 seater sports car can be somewhat practical.  A "hot hatch" that's so much better than a hatchback could ever be.
A couple weeks ago I was on a family vacation in Myrtle Beach, SC.  It was mainly my uncle John's family but since they were on the east coast (we now live in VA), my mother and I decided why not join?  One night at dinner I was sitting next to my cousin Andrew, who shares many of my interests, and we were talking about cars.  He was showing me pictures on his phone from a car show he had recently attended with his 4 year old son.  I started talking about my plans for buying a Z3 M Coupe after I finish college and get a job (only one year left!)  Knowing him, I wasn't surprised when he knew exactly what I was talking about.  It did however throw me off a bit when he told me that his wife Heather's younger brother Greg had just recently bought one.
At this point Andrew's father in law Ken who was sitting across the table joined the conversation and the two of them began to describe the pretty bad experience that Greg had in buying the car.  Apparently he had done a pre-purchase inspection at a BMW dealership in the city where he bought the car and they had failed to disclose that the car was plagued with what I immediately recognized as the dreaded subframe failure issue.  Apparently he threatened the dealership with legal action at which point they began circulating internal emails to destroy any record of him having had the car inspected there.  How's that for customer service?  Apparently one of these emails got sent to the wrong person who read back through the chain and decided to do Greg a favor by forwarding all of this back to him.
(This is all what my cousin was telling me anyway, I don't know how much is true/inaccurate, and I've never met Greg.)
Hearing all of this I was still dumbfounded at the coincidence of the situation and couldn't believe the story I was hearing.  Apparently the legal stuff didn't go any further, but they continued to tell me about how he's considering whether or not to go through with the Forbes fix.  Ken told me that he has had work done at an M specialist in Cincinnati who has been very helpful.  I said "oh, Enthusiast Auto?  They're pretty well known among the coupe community" to which he replied "yep, I believe that's the one."  He then asked me "how do you know all of this about these cars?"  I replied "I've read the forums and done a lot of research, I'm pretty committed to buying one I just need to wait until I can afford one."
Exactly at that moment, I turned to my right and a Gray Z3 coupe (must have been Sterling Gray) goes flying by on the road next to the restaurant patio where we were sitting.  (I'm pretty sure it was an M54 as it had the larger hatch trim/handle.)  I pointed and yelled "look there it is! This rare weird car we're talking about!"  I kept staring until I couldn't see it anymore and said "I don't think I've seen one in person before" of course forgetting that there was a silver one with an ugly stripe parked out front of the Porsche dealership near my parents' house briefly last winter.  Andrew laughed and said "well I guess it was meant to be, you HAVE to buy one now!"
The next night we went to a different place for dinner and ended up parking across from what I can only assume is the same car…that is of course unless Myrtle Beach is full of Sterling Gray M54 Z3 coupes with tinted windows.  I was beside myself with excitement, though I don't think my mother, uncle, and aunt fully grasped the significance of the situation…victim of the Coupe Cartel anyone?  This time I was able to get a couple pictures.  Its hilarious seeing the scale in comparison with the SUVs surrounding it.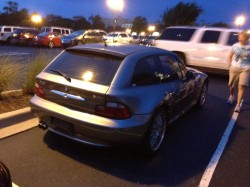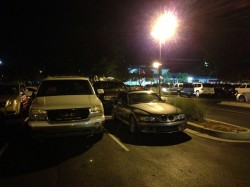 One day, hopefully in the somewhat near future, I'll own one of these cars.  Until then I can only continue dreaming.