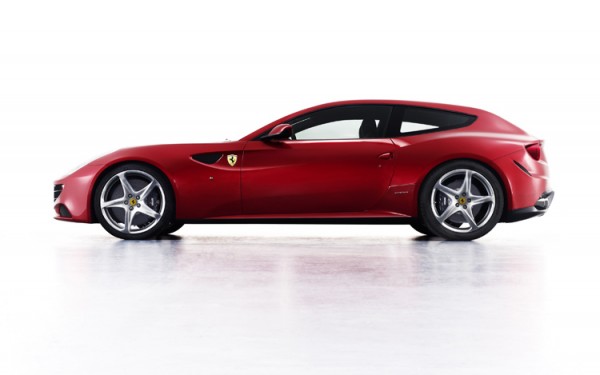 Rumors about the Ferrari 612 Scaglietti replacement being a shooting-brake styled hatchback have been swirling for a while. When spy photos surfaced showing a large rounded back, people called it camouflage. Today Ferrari released the first official photos of what they call the Ferrari FF (Ferrari Four) and it is indeed a shooting-brake. The four could stand for four seats or four wheel drive. As you can see in the image above, the Ferrari FF profile bears a pretty striking resemblance to our humble BMW M Coupes. I think it is all the better for it.
The styling is about the only thing it shares with the M Coupe. For one, it uses it's hatch space for a second row of seats. It's engine is twice as big (6.3 liters), with twice as many cylinders (12), and twice as much horsepower (660). It's also a much larger car at 193″ long, 77″ wide, and 54″ tall which dwarfs our cars 158.5″ long, 68.5″ wide, and 50.4″ tall. It also has all wheel drive, a Ferrari first. Finally, it's expected to be priced at nearly $300,000.
The previous four-seat Ferrari, the 456 GT, was nice to look at but never very popular. The current 612 Scaglietti is not much to look at, nor is it selling well. This is the first four-seat Ferrari that has ever remotely appealed to me. I think it will be far more successful than its predecessors based on styling alone. It is admittedly love-it-or-hate-it, but at least people care. I, as you can imagine, love it!
This is the first production Ferrari shooting-brake, but there have been others done by custom coach builders. It's definitely the nicest looking.
Comments on the magazine articles have been mostly negative, but it's not like any of those people are in Ferrari's customer base. Many compare it to the Z3 Coupe both favorably and not. I think this will only increase interest in our cars and help secure them as future classics. Here's hoping it's a success!