Small Scale Fun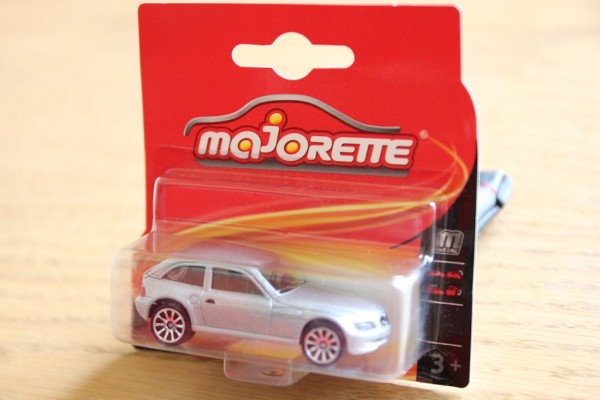 A new coupe model was added to my collection today but not for display. One of my 4 year-old's favorite activities is playing cars (I started him very young) :). In order to join in, I need to make sure I maintain a respectable fleet of Hotwheels. Hence my long search for an M Coupe to add to my 1:64 scale garage. As Hotwheels, Matchbox, nor any other U.S. brand of toy cars makes an M Coupe, I had to look elsewhere. I eventually discovered the brand Majorette in France. I've seen a couple of their cars on Ebay but never in a U.S. store.
It's listed as a Z3 Coupe, but it's most definitely a European M Coupe. It has the M front bumper, side grills, quad exhaust, and the Euro license plate on the hatch. I've seen them in black, navy blue (?), red, pale mint green, and silver. Being me, I had to seek out the hardest one to find: silver. They also had different style wheels available. Some of the older styles look terrible, so I was after a silver one with the most modern looking wheels. I saw them come up for sale from time to time, but always with overseas shipping costs so ridiculous that I could not justify the expense for what is basically a $1 Hotwheels. Needless to say, it was a multi-year search that only came to fruition today. I must say I'm very happy with my purchase. The quality is pretty decent, and my son was very excited to discover that the hatch opens.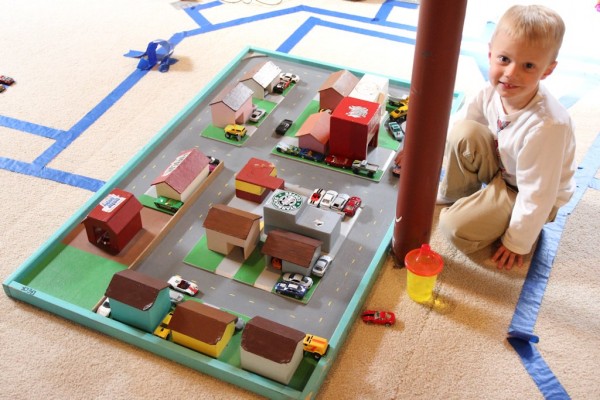 Several years ago, my son was given a pretty amazing, wooden town by a neighbor that he spends hours playing with (and I have as well). After nap time this afternoon, we were excited to take the new coupe for a spin. He recently evicted me from the very spacious fire station into a smaller ranch home with only a single car garage. With the tight quarters, I had no choice but to relegate my Ferraris 288 GTO and FF out to the yard. I think the M Coupe will be my daily driver/around-town car with my FF's AWD being used in poor weather and my mint, pearl white 288 GTO for Sunday drives and car shows.
Excited to show off my new ride, we put together a little BMW get together at the local mechanic/gas station/Starbucks. Two E90 M3s showed up (one being Todd's) as well as Colby in his alpine white over imola M Roadster. Everyone seemed to like the new coupe. The meet was interrupted by Mom calling us upstairs for dinner, so the coupe is parked back in the garage until tomorrow. 1:64 scale life is eerily similar to my full size one :).