2nd Annual MCBG Fall Drive & BBQ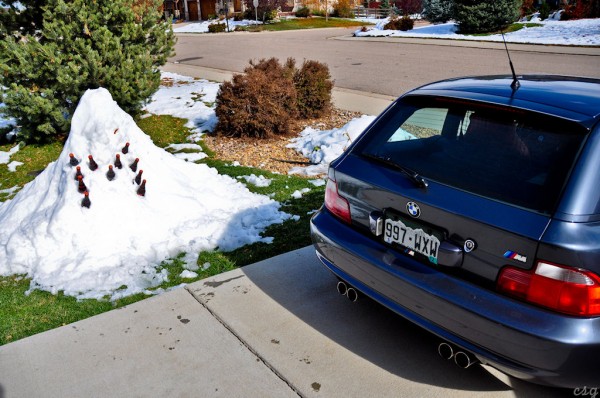 I can't believe it's already been a year since our last fall get together. As you can tell from the photos, winter started a little early in Colorado. It had snowed almost a foot at my house just a few days before. The day of the BBQ though, the temperature was around 50, the roads were dry, and there was fun to be had. It also made for some interesting photos. The weather did keep a couple of our mountain living friends stuck at home, but it was a great day overall.
In attendance were:
Jenn and My 2002 Steel Gray over Imola Red M Coupe
Alex's 2002 Imola Red over Imola Red M Coupe
Kevin's 2002 Alpine White over Black M Coupe
Colby's 2002 Alpine White over Imola Red M Roadster
Todd's 2010 Jet Black over Fox Red M3
It's interesting that all but Kevin's coupe had red interior, and all but Todd's M3 had an S54 (though his 4.0L V8 is not so bad either). Jon road up with Alex because his imola red S52 coupe was having some cooling system issues after a track day earlier in the week.
We started at our house at 9:30 am. Even though this is my 4th coupe BBQ, it still feels like Christmas morning sitting in the garage and first hearing then seeing coupes driving down my street towards my house. When everyone had arrived, we set out on our usual route up Poudre Canyon then back on Stove Prairie Road. We were not sure what the roads would be like (especially on the far less traveled Stove Prairie), but were very pleasantly surprised.
Our first stop was at the intersection of Stove Prairie Road with Poudre Canyon where we took so many great shots last year. It was a little muddy this year and far less scenic, so we didn't stick around too long.
Instead we sent Colby and my sister Lindsay back down Poudre Canyon about a mile to the tunnel to take some moving photos which came out very nice.
After that Colby put down his roof and had Jon drive his roadster while he turned around and took some photos.
We all made it safely back to our house and enjoyed some brats, beer, and time staring at my beautiful driveway. Until next spring…
All the photos of are courtesy of Colby and Alex. See more on Colby's Flickr Photostream and Alex's SmugMug page.