Dorkfest 2011

It's hard to describe the Dorkfest experience. If I had to sum it up in a single word, I'd probably go with overwhelming. Although fun, amazing, exciting and dream-come-true would also apply. For someone who has been obsessing about M Coupes for more than 10 years, I just didn't know where to look. In every corner of my vision were single cars I could happily spend an hour contentedly gazing at. Since I did not have the 56 hours required to check out each one in detail, I had to pick and choose, and it was soooo hard. I had never seen more than 4 coupes in one place before, this was a whole new experience. Leaving Saturday night and facing a 1250 mile return trip to Colorado, I was already excited for next year. Yeah, it was that good.
The Journey
When it was first announced that Dorkfest was making a comeback, I knew if there was one place I wanted to be this year, it was there. I started looking at flights and arranging rides from the airport. It was not until much later, when local-ish coupe owner Lindsey said he wanted to make the drive, that I seriously considered driving my coupe. I was a little hesitant to put that many miles on at one time, worried about rock chips, windshield cracks, and time away from family. I slowly got over my concerns with car because I did get it to drive; I'm not going to sell it; I don't need to worry about mileage; and I could take some steps to help protect it. My wife then very generously said she would stay with the kids for 5 days while I was off having fun (she's coming next year :)). In the end, I did get a few rock chips on the hood and a couple nicks in the windshield, but I will definitely be making the drive again next year. It just would not have been the same without having my own coupe there as I'm sure Jeremy Banks and Michael Wong can attest.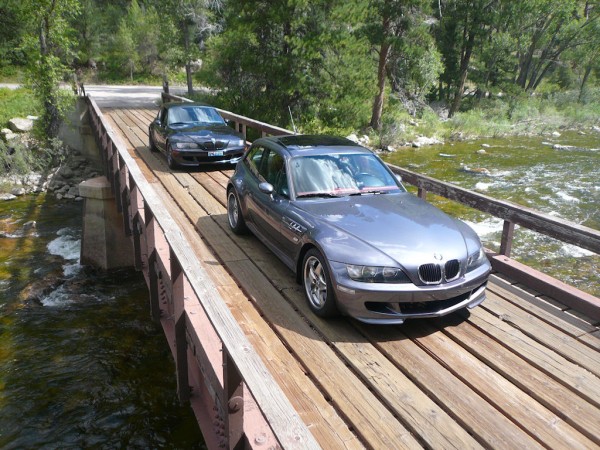 Lindsey set off from North Dakota where he's been working at 3:30 AM Thursday morning. He made a stop at his storage unit in Cheyenne and made it to my house around 10:00 AM. Not only did I make him get right back on the road but had him help me carry our washer and dryer out to the garage in the few minutes he had to "rest". Thanks Lindsey! We then set out through Poudre Canyon where you can find me almost every Saturday morning. You'll probably recognize the bridge in the photo above from my previous photo shoot; it is just too cool to pass by. We hurried towards Steamboat Springs to grab lunch at Beau Jo's (a Colorado pizza place that rivals the best anywhere) before their lunch buffet ended at 2. We made it to town at 1:53, but they had already locked up for the afternoon due to their "summer hours". We grabbed lunch across the street then continued west towards Salt Lake City. Just a few miles out of town, I was able to experience my first hard rain in the coupe. It did excellent with it's new tires, but I had to call Lindsey to figure out how to turn the rear wiper off. The photo below is near the Colorado/Utah border in Dinosaur, CO which is very close to Dinosaur National Monument.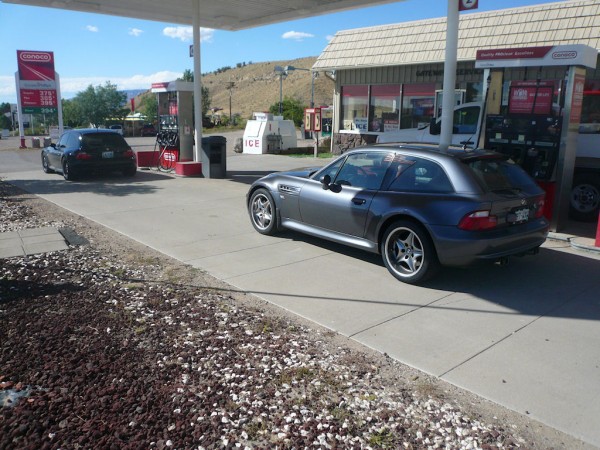 After some awful, loose gravel road construction in eastern Utah, we reached Salt Lake City around 8:30 and Greg (jonesmechanical on Bimmerforums) invited us to stop by his house to hang out. Unfortunately his 700+ hp turbocharged cosmos black over kyalami orange sunroof-delete M Coupe was in his shop where he's welding his own two-stage exhaust system, so we did not get to see it, but we did get to see the monster tires he has ready for this superstars (his custom 3-piece roadstars). I can't wait to see that project come to fruition. It was a lot of fun hearing his M Coupe history and how he ended up with his car. I fortuitously wore a Ferrari t-shirt, and Greg told us one of his good friends was a tech at the local Ferrari dealership and could get us a behind-the-scenes tour the next morning. We were planning on heading out early, but how often do you get a Ferrari tour?
Steve Harris Ferrari in Salt Lake City ended up being a pretty amazing place. One of our first views upon entering was a line of cars consisting of a 288 GTO, an F40, an  F50, and an Enzo (basically shelf number 4 on my car model shelf :)). It was incredible seeing all the Ferrari supercars lined up. Interestingly, we all agreed of the four we would want the F40, but I would give the 288 GTO a close second. I could have stood and looked at those four cars for hours, but alas out tour continued. We next got to hear the new 458 rev up to 9000 rpm. I can say I've honestly never heard an engine that sounds like that, just plain awesome. We walked into the next room where there was another 288 GTO with just 5,200 original miles which had won best Ferrari at last year's Concorso Italiana near Pebble Beach. The place was so overwhelming I don't think I even spent any time checking out the Ferrari Daytona coupe, F430 Scuderia, and some of the other 30+ Ferraris they had. The next room had some older Ferrari's like 308s, a Mondial and a Testarossa, but it was a blacked-out Lotus Exige S240 that caught Lindsey's eye. He said he would feel obligated to wear a Darth Vader helmet to drive it around; I can't disagree. We next peeked into the wash bay where a 1952 Ferrari 212 was being prepared for concours. It was one of the first Ferrari models built and had a little bit of shooting-brake styling. Entering the kitchen area we were greeted by a '70s 312P (or 312BP) racing prototype. Zach, our tour guide, said that model was never beat in any race it entered; although it was not entered into the 24 hours of Le Mans because of concerns over engine longevity. Their specific car is believe to be one of the back-up or test cars and was not actually used in competition. Our tour concluded, Lindsey and I hopped into our coupes to continue westward.
Because of our late start, we decided to just hop on I-80 for our journey that day. The next 800 miles were relatively uneventful until we turned off onto I-680 to head South towards Danville. We were greeted by 15 miles of stop and go traffic because of a roadside brush fire. It was my first such traffic experience in the coupe (and first in a manual transmission car to be honest). By the end I was already figuring out tricks to give my tired legs some short breaks. Did you know you can set the cruise control at <10 mph? Once past the fire and back up to speed it was starting to get dark. Traffic was no less congested but now moving 65+ mph with people weaving through much faster than that. We decided to play it safe and ride out the last few miles in the slow lane. That plan backfired as twice our slow lane was closed for construction without warning forcing quick lane changes and once compelling Lindsey to come to a complete stop to avoid hitting the cones. We survived and made it to the Danville exit where we promptly pulled off into the first parking lot to regroup. Putting the hotel address into the GPS yielded directions instructing us to get back on I-680 to which we quickly had it give a significantly longer, but interstate free alternate route.
Upon entering the hotel parking lot we were immediately greeted by a pair of coupes which were just a sign of things to come. As we made our way around the back of the hotel, more and more coupes came into view. I felt a little bad parking my coupe covered with 1200+ miles worth of bugs next to the clean and pristine coupes, but I was in no state to try and find a car wash at that point. After grabbing dinner across the street, the group who had been hanging out at Val's house returned to the hotel. We checked out each others cars then went and hung out at Denny's across the parking lot before calling it a night.
The Main Event
Lindsey and my coupes were still filthy, so we rolled out of bed at 6 AM to go find a do-it-yourself car wash. I'm sure my detailing mentor Colby would have been appalled, but we had to play the hand we were dealt. We got them pretty cleaned up then applied the secret sauce: Adam's Polishes Brilliant Glaze. I swear it adds 6 inches of depth to the appearance of your paint :). We made it back to the hotel in time to eat a quick breakfast than headed out with the early caravan to the Blackhawk Museum parking lot.
On arrival at the Blackhawk shopping center, the coupe I was most excited to see – Andrew's steel gray with Kinesis K59 wheels – was already there (it didn't disappoint). We parked, determined that was indeed the parking lot we were supposed to be in, then waited for everyone to arrive. It was almost other worldly seeing lines of M Coupes pulling into the parking lot from all directions for the next hour. Each one was more exiting than the next.
Soon the entire parking lot was full of beautiful M Coupes from all over the western U.S. The farthest travelers were from Alberta, Canada; North Dakota; and Texas. Almost every color was represented aside from phoenix yellow, laguna seca blue and oxford green. The rarity highlights were a low mileage evergreen sunroof-delete and one of the two alpine white over imola red S54s I've been searching for many years (see "My Unicorn"). There were also several mint <15,000 mile examples.
It was also really amazing to see almost every combination of modifications side-by-side for comparison. There were roof spoilers, hatch spoilers, front splitters, side skirts, superchargers, big brake kits, projector headlights, an S50 engine, and lots of coilovers. With all that, there was not a bad looking coupe in the whole lot. I think it goes to show that the M Coupe styling is a great base to work from and open to a lot of different styles. Aftermarket wheels were also well represented. My favorites were Andrews aforementioned Kinesis K59s, Carey's BBS LM Champion Editions, Tommys BBS LMs, Alan's SSR Professors  SP1, CCW LM20s, Matt's Fikse Profil 5s, Rob's BBS RXs and Bob's BBS CHs. As everyone slowly filled up the parking lot, the coupe owners just mingled and ogled. We were also joined by a couple interlopers, but no one minded the Porsche Carrera GT or BMW Z8 in our midst.
Soon it was time for the big photo. Bob was able to talk the museum into allowing us to bring all of the coupes up at one time for the group photo (the initial plan was just for groups of 15). Getting everyone lined up was a project, but Bob did a great job directing, we had no accidents, and we even had room to spare. All the owners stood in the middle of the plaza and waved up to the photographers on the roof of the Blackhawk museum.
While we were grouped together Rob shared a few words and did the raffle. Jeremy's son Carter pulled out raffle numbers for prizes ranging from stickers, shirts, maintenance packages to a ZHP shift knob. My number unfortunately was not pulled, but it was a good time.
Following the raffle we broke for lunch. We carefully exited the plaza and spread out through the restaurants in the neighboring shopping center. While most were eating, a few stayed up in the plaza setting up some more photos which came out great.
The afternoon tour of the Blackhawk Museum was also very cool. They had a fantastic collection with the highlight being the set of Alfa Romeo BAT concepts. The highlight for me was walking through the museum with my good friend Bob Epstein. While the tour guide told the history of each car, Bob would tell me what it was like to drive, what color he used to have, or who he knew that previously owned it. Awesome!
The Drive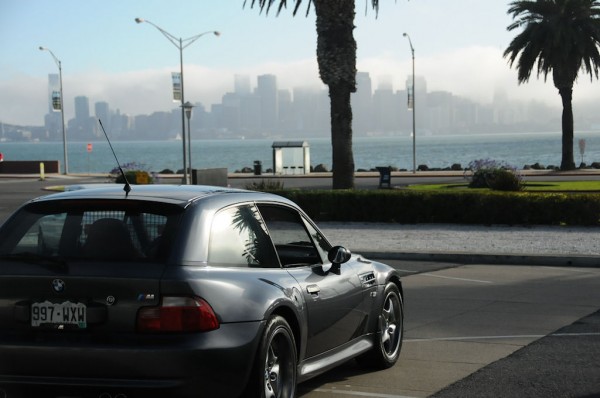 Following the museum tour there was an organized drive. We started with a large group of 30+, but we were slowly weeded down by traffic and an emergency gas stop by us out-of-towners. The plan was to do a fun/scenic/technical drive and eventually end up on Treasure Island in the middle of the bay. It was just our luck that there was both 49ers and Giants games that afternoon and the traffic on the bridge was ridiculous. After well over an hour sitting in traffic, the final three of us (Lindsey, Peterson and I) finally made it where we found just 3 others. It did make for a fantastic photo op, but I'm not sure it was worth the time and effort to get there that particular day. Thanks for the great photos Peterson!
Conclusion
After leaving Treasure Island, we all went our separate ways. I made my way over to Val's "after party" where some of the out-of-towners ate, drank, showed off modifications and talked coupes for hours and hours. It was one of my favorite parts of the whole trip. I left Val's around 11 and without a motel room reserved decided to head back east towards Colorado. I took naps in Sacramento and Reno and drove the rest straight through arriving home at midnight the following night. The trip was short and sweet, and one I will never forget. I made a lot of new friends and put faces to the screen names and email addresses of many others. I can't wait for next year!
Photo credits go to lots of different people. There are many more photos posted on the Bimmerforums Dorkfest Photo Thread and the Dorkfest Facebook page.