Dorkfest or Bust!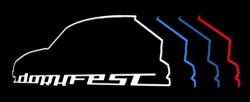 Thanks to my loving, gracious and very understanding wife being willing to stay home with two little kids, I'm driving to Dorkfest 2011 at the Blackhawk Museum in Danville, CA. The main event including photos, museum tour, and scenic drive are being held August 27th. If you have been around for a little while, you'll know the appropriately named Dorkfest is the largest gathering of M/Z3 Coupes in the U.S. It's been on hiatus the last two years, but this year is the revival. With 50 coupes already registered with more than a month to the event, we're well on our way to breaking the previous record of 58 coupes set by Dorkfest 2005. I almost want to giggle at the thought of a virtual sea of coupes in all colors. That in itself is worth the price of admission. Speaking of price of admission, it's FREE! And you get a free t-shirt just for showing up (if pre-registered).
I'll be convoying from Colorado with at least one other coupe, but we're open to picking up more anywhere along the way. We'll be heading out of Northern Colorado through Poudre Canyon, onto Highway 14 through Steamboat, by Dinosaur National Monument all the way to Salt Lake City. Then we'll probably just hop on I-80 through the rest of Utah and Nevada. If you interested in joining us, just send me an email at jon@mcoupebuyersguide.com. We're not opposed to scenic detours :-).
I'm very much looking forward to meeting in person people who helped me in my search, those whose coupes were found on my site, and many I talk to almost daily through email or on the forums some of which I've "known" for years. I will also do my best to cover the event and the epic drive there and back. If you have a coupe, you don't want to miss this. Click on the free registration link below.