Ruined for Anything Less…
The problem with starting with perfection is that it's hard to settle for anything less. That's the problem I've run into.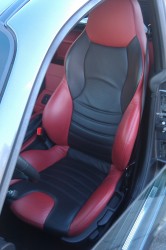 Last Sunday, my wife and I went to her cousin's graduation party in Denver, CO. We were only a few miles north or where "My Perfect M Coupe" lives, so I contacted the owner Glenn to see if we could swing by so my wife could see it (and I could see it again). My wife had never seen a steel gray M Coupe in person before and photos just do not do it justice (but that's a whole other article). I felt I had to justify to her why I stare at photos of it all day. Glenn was gracious enough to oblige, so we headed over to his house. The coupe is usually in the back of his tandem garage covered and surrounded by Styrofoam panels. Needless to say we had to move a lot of stuff (including his beautiful 1996 Viper GTS) to get to it. He pulled it out of the garage to let us look it over in the sunlight. We oohed, aahed and took photos for a while until his wife got back and could watch their daughter. He then took me for a ride in the foothills behind his house.
After a great ride he very unexpectedly pulled over and called a "Chinese fire drill". I have to say it was probably the most exciting car moment of my life. Believe it or not, I had never actually driven an M Coupe before despite having this entire website devoted to them. I had driven a Z3 Coupe 3.0, an S52 M Roadster and an S54 M3. I had just assumed an S54 M Coupe would be the perfect combination of the three, and I wasn't disappointed. He said I was the only other person to drive it since he got it which made me feel especially honored. When we were leaving, my two year-old son went over to the coupe and called it "Daddys"; I've never been so proud.
Before that day I had been semi-considering compromising my long search for steel gray/imola and pursuing one of the other coupes currently listed. There are a lot of choices and some very good deals on great cars right now.  Seeing his car again, and then driving it, has ruined me for all other coupes. It only reaffirmed my dream color combination, and convinced me to do what I can to try to make this special car mine.
Thank you Glenn! And a special thank you to my wife for being willing to keep our 2 year-old and 4 week-old up late, so I could live out a dream.