SOLD: Borbet Type E Wheels with Bridgestone Blizzak Snow Tires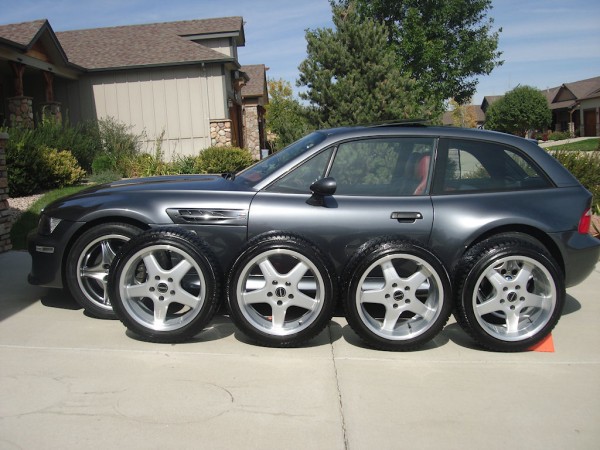 When I bought my coupe, I also inherited a slightly used set of Borbet Type E wheels with Bridgestone Blizzak snow tires. The wheels are in great shape overall with no rash. The faces and lips have some very small surface scratches and one of the rear wheels has a small chip from tire installation I assume. The rear wheels even have 2.5″ lips. The tires have a lot of life left as can be seen in the photos. I've decided after a year that I'll probably never use them as my coupe gets tucked into my garage for winter, and I like the roadstars.
The wheels are Borbet Type E:
Front: 8×17 et40
Rear: 9.5×17 et17
The tires are Bridgestone Blizzak LM-22 in stock sizes:
Front: 225-45-r17 91H
Rear: 245-40-r17 91H
I've actually never mounted them since I've had them and had trouble finding photos of them on any other Z3Ms. I think this is a relatively rare fitment. Colby put them on his M Roadster for a snowy day or two this spring while in between daily drivers. I've also included one photo from a previous owner of my coupe.
I'm looking to get $650 plus shipping or best offer. Email me at jon@mcoupebuyersguide.com.
Click on any of the photos below to see them larger. I think the wheels cleaned up pretty nice.